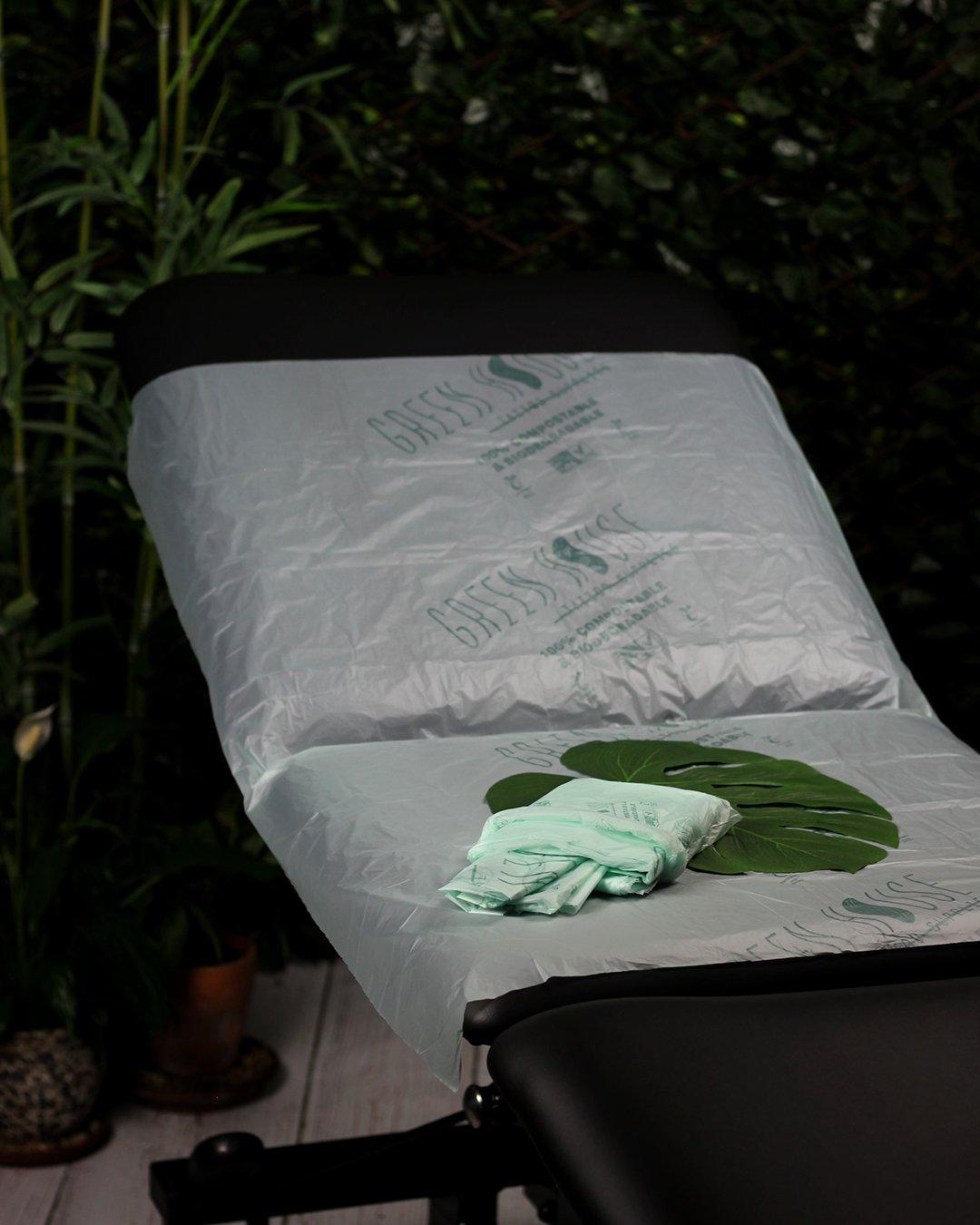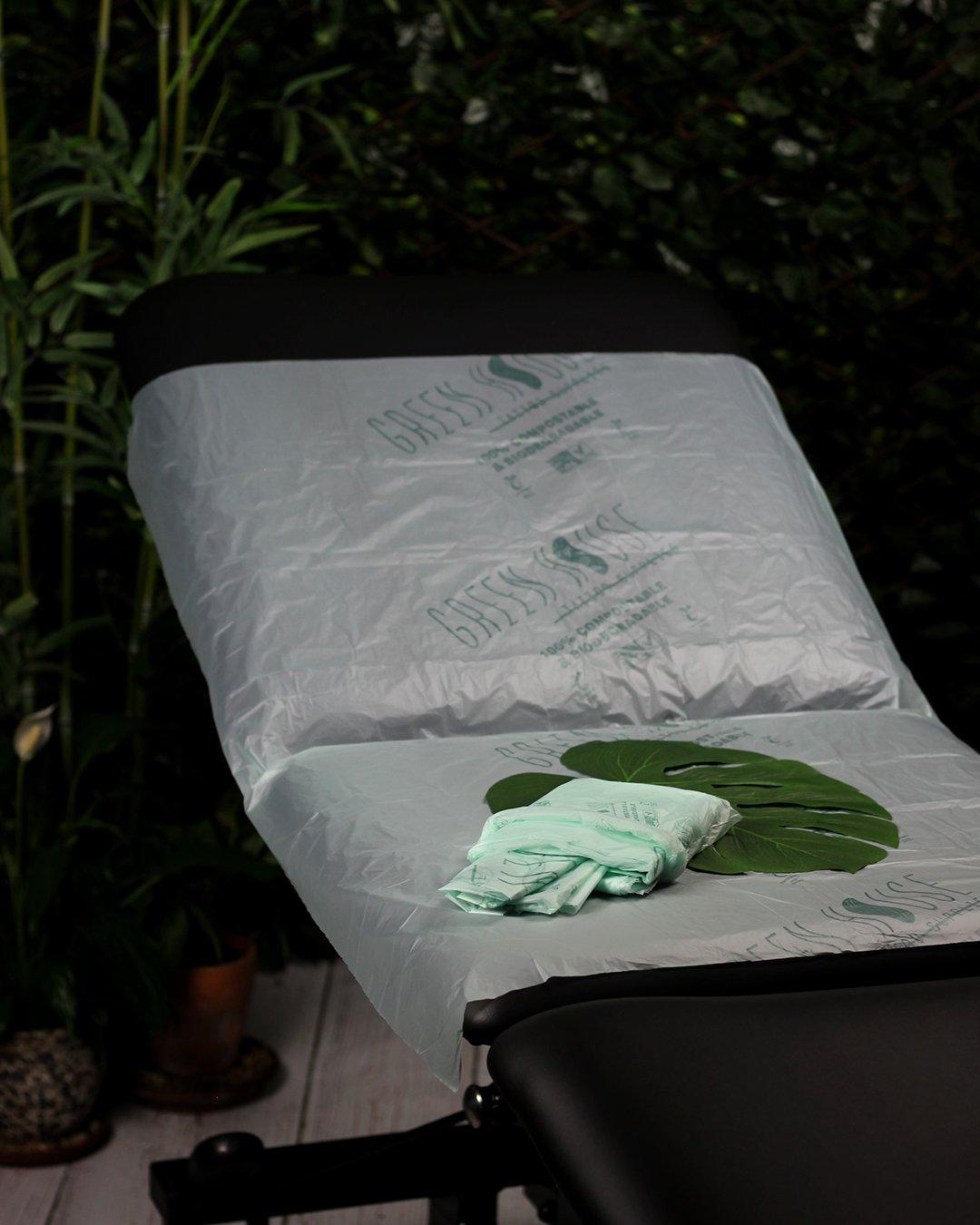 Regular price
Sale price
£13.50
Unit price
per
Sale
In Stock Soon
Share
Let us introduce you to eco-conscious Clipcord Sleeves! Like all of Greenhouse products, they are 100% plant-based and 100% plastic-free.
The Full bed covers measure 760mm x 1030mm and come in a handy refill pack of 20, which can easily be dispensed and stored in your own reusable container. These covers have been designed to cover half of a average tattoo bed.

All Greenhouse equipment coverings feature a light green tint and their environmental certifications are printed on the material, making it easy to distinguish them from regular plastic products.
--------------------------------------
Environmental benefits of our products and packaging;
* Keep fossil-fuels in the ground - Materials are made from plants instead of oil

* Plant-based - Materials come from nature and are certified as compostable

* Sustainable - Materials are produced from annually renewable resources

* GM free - No genetically modified contents are used to make our materials

* All Green Everything! - Materials are light green so you can easily distinguish our eco supplies from regular plastic tattoo supplies

* Plastic-free packaging - Packaging is plant-based and certified as compostable too

* Zero-waste packaging - Come in eco refill packs so there is no pointless single-use packaging in sight! 

* Green manufacturing - Manufactured and packed in the UK by two green manufacturers who specialise in bioplastics

* Low product mileage & no air miles - Manufacturing and packing of our products is structured to keep product mileage to a minimum before travelling to you

* Green fulfilment - A green logistics company stores, packages and delivers the products around the world
--------------------------------------
Traditional plastics are made from oil, but ours are made from plants so they help keep fossil fuels in the ground!

The material used to make Greenhouse equipment coverings and packaging is part of a broad family of innovative bioplastics that comes from plants instead of fossil-fuels, but still has very similar characteristics to traditional plastics.
The materials Greenhouse use come from nature and are designed to return to the Earth with no release of polluting substances - a true closed-loop. The process of making these materials is inspired by nature and it starts by using greenhouse gases, like atmospheric carbon as a feedstock. Nature does this all the time, it's what plants, entire forests, and even huge structures like coral reefs are built from.

All of Greenhouse products and packaging are made from sustainable plants like cassava, corn starch, sugar cane, or beets, whereas traditional plastics are made from oil. The feedstock (raw material) used is always derived from renewable resources that can be grown and harvested in a single season, providing a sustainable material with low environmental impact.
--------------------------------------
Manufacturing

Greenhouse equipment coverings and packaging are manufactured by a bioplastic specialist in the UK, in Bradford in West Yorkshire.

--------------------------------------
End-Of-Life Options
End-of-life options are confusing, but remember - our products are always better than traditional plastics, no matter where they end up after use. This is because some of the huge environmental advantages start at the very beginning. One of the most important is that they help to keep fossil fuels in the ground because they are made from plants not oil.

The biggest problem with moving to more eco-conscious ways of managing the waste generated by tattooing, is that contaminated waste must be disposed of safely, and in some places there are laws that must be followed regarding this. 

Your best end-of-life option will depend on where you are because there are so many different regulations for tattoo waste around the world, as well as differences in available facilities, so it is important to do your own research into this. We have tried our best to be as informative as possible about our products, so please do read the information we provide on this website thoroughly so you can understand the materials and what your options are when it comes to disposal.

--------------------------------------

Environmental Certifications
EN13432 (Europe)
ASTM6400 (USA)
AS4736 (Australia)
GreenPLA (Japan)

Compostable CIC

OK biodegradable SOIL

OK biodegradable MARINE

eLabel! certification for environmental performance
More about environmental certifications if requested.
--------------------------------------
Storage instructions
Greenhouse products come in handy plastic-free, zero-waste eco-refill packs and are designed to be stored in your favourite glass jar or other reusable container! They can also be kept in the eco-refill bags if you prefer.


Make sure to store in a cool, dry place, away from direct sunlight.
View full details