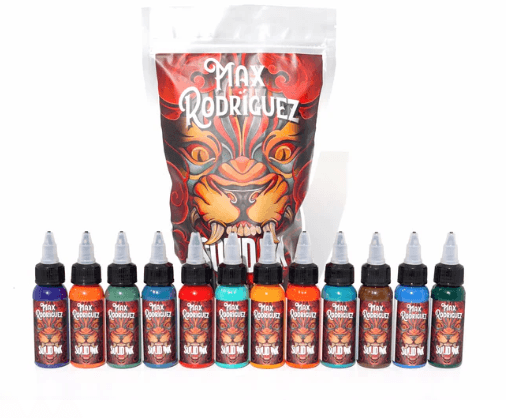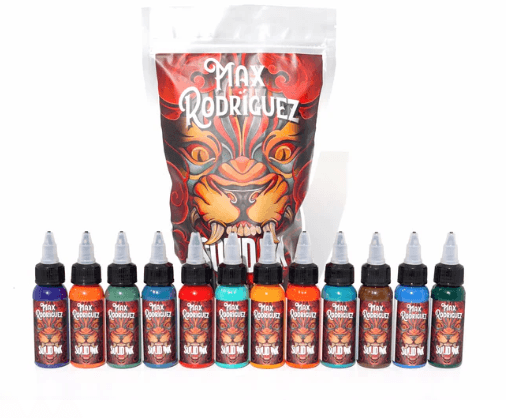 Regular price
Sale price
£99.99
Unit price
per
Sale
In Stock Soon
Share
Solid Ink - Max Rodriguez 1oz Set of 12 (12 for the price of 10)
.
Includes The Mixer in bigger size bottle and the following colours:

Solid Ink is 100% cruelty free and Vegan. Never tested on animals.
Solid is made in a cosmetic manufacturing facility approved by the Department of Business and Professional Regulations (DBPR) inside a clean room with laboratory conditions, containing HEPA filters and the highest standards in cleaninless.
This set contains the 12 Costa Rican nature inspired colours by Max, check on the individual descriptions to learn more of these extremely rare and exotic hues.
The set comes in a reusable colorful bag, and you will get 12 bottles for the price of 10.
MAX RODRIGUEZ:
Tattoo artist originally from Costa Rica, where at a very young age he is attracted to the art of tattooing. Hand in hand with his studies at the University of Costa Rica, which has a School of Plastic Arts, he develops a complete passion in the world of ink on the skin.
Close to 20 years old, Max was already a tattoo artist in training and with the passage of time he takes an inclination to work with a lot of color and with this his search has been to improve it and give it a style that little by little is recognized in his country and begins to attract international attention. This leads Max to create a seminar with which he has taken his knowledge and experience to several Latin American countries, leaving in each one their way of applying and solving the details that each artist seeks to improve their work.
His perseverance and search to improve every day have led him to meet great world-class artists and this opens the doors for him to work as a guest in some tattoo studios.
Now Max, as part of Miami Ink, continues to seek to grow as an artist and also to exhibit his work in a different way without neglecting his roots and his Studio 93 in his country, Costa Rica. His goals have no limits or a defined time and his career is evolving every day, all with the sole purpose of continuing to grow, improving and sharing his knowledge as a legacy for new artists.
Set Colours:
Cahuita: "This is the name of a beach in the Caribbean of Costa Rica that is visited worldwide due to the color of its crystalline waters with a characteristic unmatched greenish turquoise."
Chirripo: "It is the highest mountain in Costa Rica. From a distance, it looks impressive at sunset with its gray-green tone due to the sunset and the green of the forest."
Cas: "This color is inspired by my favorite fruit from childhood. With this color, I wanted to represent the acidity and tone of one of the most exotic fruits I have ever seen in my life."
Tico Red: "Costa Ricans are known worldwide as Ticos and red is our color, unmissable because of our unique pronunciation of the "R." It is a strong and intense red like our homeland." 
Cadejo: "The urban legend of the cadejo tells that it manifests itself among the nocturnal mists. I remember imagining this scene in my head in an atmospheric bluish-grey tone." 
Maracuya (Passion Fruit): "I will always be struck by the yellow-orange hue that I have only been able to perceive in passion fruit. When I think of Latin America, I think of passion fruit, [so] there was no way it wasn't on my set."
Heredia: "It is one of the seven provinces of Costa Rica, known as the city of flowers for its beautiful orange flowers that adorn the landscape where I grew up." 
Jaguar: "[This color is] in honor of the name of the largest feline in America considered a God in many cultures."
Pinchi: "[This color is] In honor of my beloved daughter's nickname and the color she chose, a calm and unique atmospheric blue-violet mix."
Papaya: "[This is] the characteristic color of the unmistakable papaya that immediately brings to mind the tropics."
Jocote: "[Jocote is] one of the most exotic fruits in Latin America with its deep green hue during its early stages of maturity. Our pigment with its acid and deep hue makes this one of the most interesting [in the set.]"
Guaria: "The purple guaria is the national flower of Costa Rica that with its vibrant violet hue captivates the eyes of all who see it."
All pigments are vegan and cruelty free. Made in the USA.

Ingredients: Aqua CAS #7732-18-5, Pigments, Glycerin CAS #56-81-5, Isopropyl Alcohol CAS #67-63-0 & Hamamelis CAS #84696-19-5
View full details