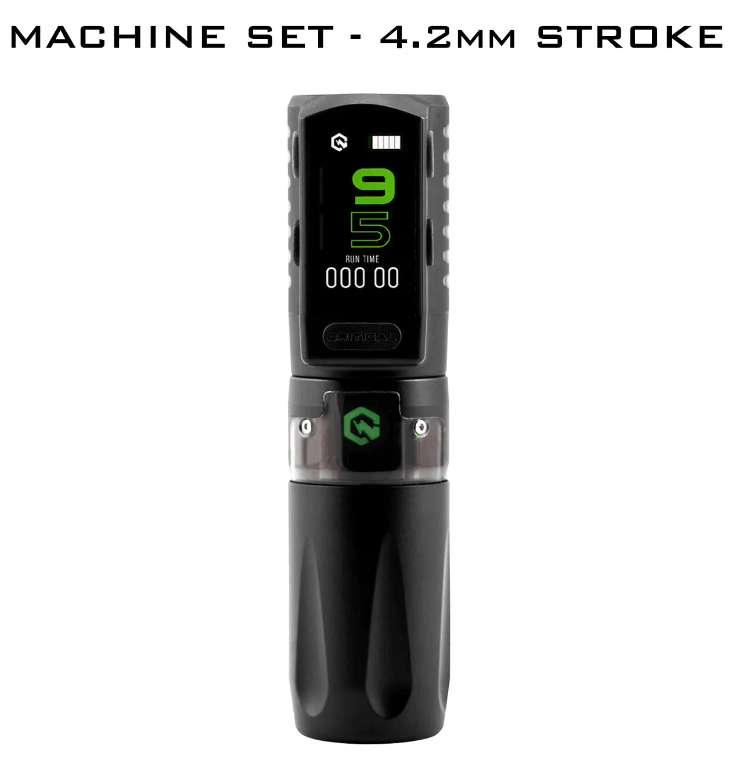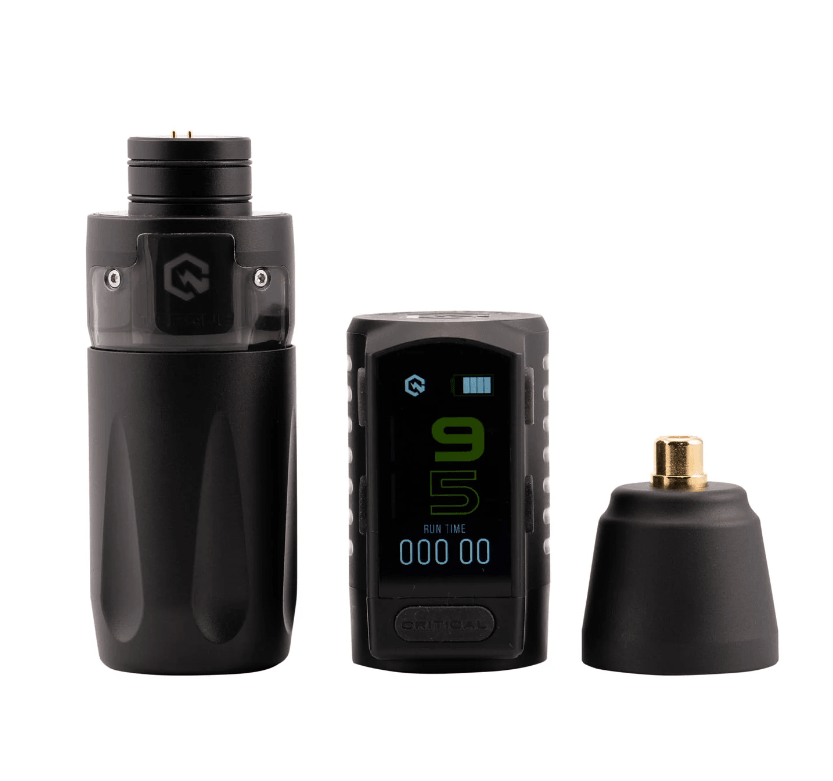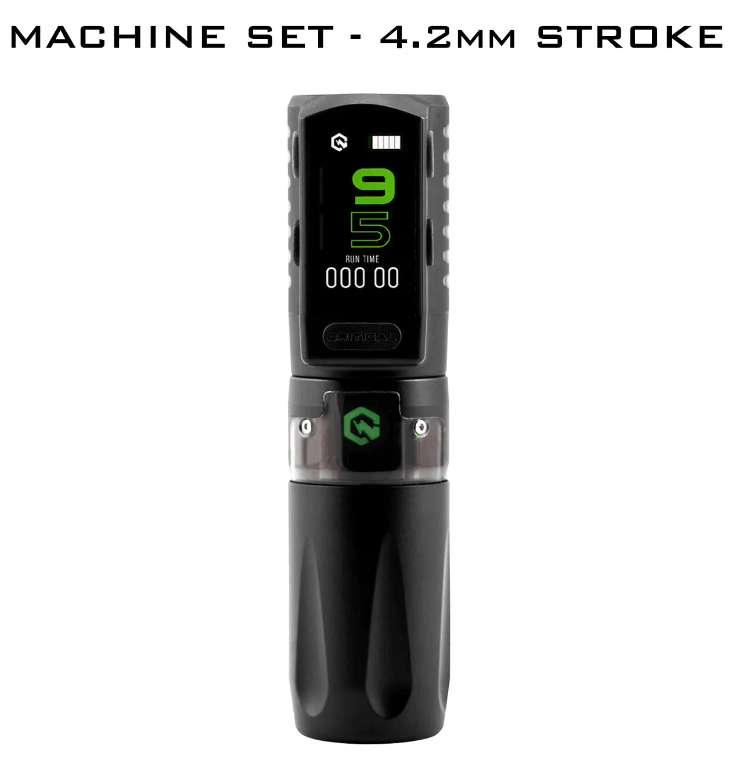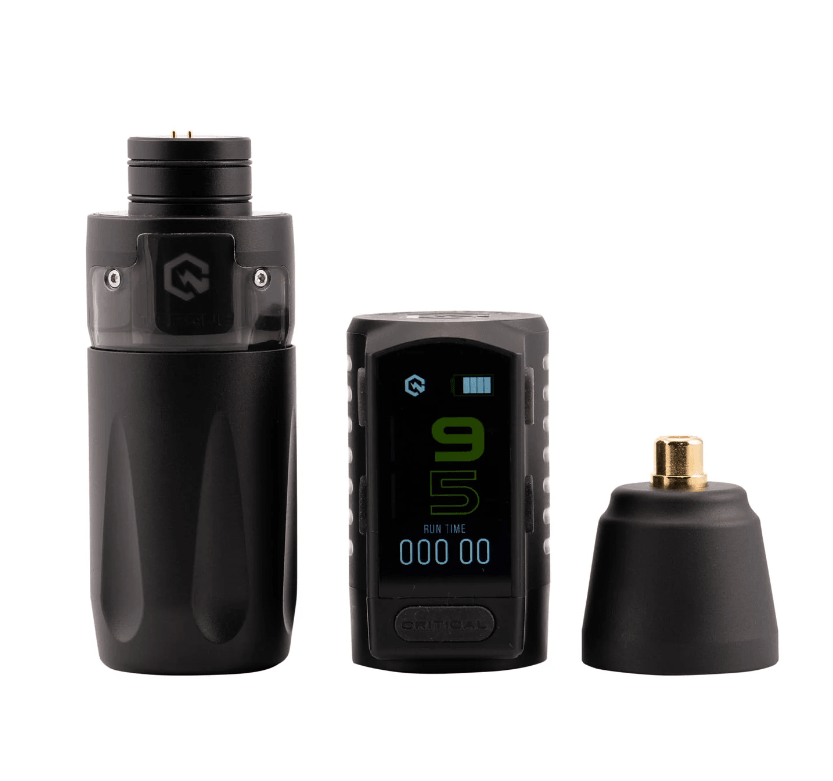 Regular price
Sale price
£879.99
Unit price
per
Sale
In Stock Soon
Share
Critical Torque Wireless Machine.
The Critical Torque is the first solo-release tattoo machine from the makers of Critical Connect batteries and foot switches - an all-purpose wireless tattoo machine with a battery rivalling any they've made before.
This wireless pen-style rotary utilises the industry's first Precision Strike Technology, allowing for a faster, smoother and more efficient tattoo process, with the Vibration Dampening Solution working to keep unwanted movement to a minimum. The custom German brushless motor increases rigidity for better torque and power, with a stabilising system making it comfortable to use for up to 15 hours of work.
The battery pack powering the Critical Torque pen is a feature-rich, upgraded v3 of the standard Critical Connect battery, now complete with a 1.5" colour LED display. The current voltage is displayed clearly, as well as a battery indicator, and optional timer below the voltage readout. This v3 battery is easily charged via the included USB-C cable.
Settings can be adjusted through the four side buttons and front home button. The home button controls power on and off, with your choice of left- or right-hand buttons to control the voltage levels. Add your hourly rate into the timer settings, and choose whether to charge by time the machine is running, or from beginning to the end of the session, with the battery pack telling you the total cost once finished. The timer function can be hidden to prevent clock-watching.
The battery comes with two preset options which are easily selected and switched between on-screen, allowing you to have the perfect voltage levels for lining as well as colour packing or shading with just a button press to switch between them.
Fitted with Bluetooth 5.0, the Critical Connect v3 is compatible with the Critical Connect Foot Switch, and allows for both momentary and continuous modes adjustable through the battery settings, as well as jump start mode.
The body of the Critical Torque machine measures just 131 mm long, with a 34 mm diameter grip. The screen on the battery makes for a slightly larger diameter of 37 mm at the top of the machine, which is still easily bagged and barrier-protected.
The Critical Torque is available with green housing for the 3.5 mm stroke length, and black for the 4.2 mm stroke length. Please select the stroke length you require.
The ultimate powerhouse is here.  The Critical Torque Wireless Tattoo Machine utilizes the industry's 1st Precision Strike Technology to promote a smoother, faster, and more efficient tattooing experience. The Vibration Dampening Solution ensures a smooth & seamless tattooing experience. The feature-rich battery with a larger, intuitive 1.5" colour display is loaded with features, even allowing for a timer feature to assist in gauging tattoo time. Motor design increases rigidity and provides more torque and power.
Key Features:
Colour: Black
Comes with 1x Critical Connect v3 wireless battery pack
Stroke length: 4.2 mm
Voltage: 4.5-13 V
Wireless - no cables or power supplies needed
Custom German brushless motor
Up to 15 hours run time
Material: Aircraft aluminium
Critical Torque Dimensions (L x W): 131 x 34 mm
Critical Connect v3 Max Width: 37 mm
Critical Torque, Grip & Battery Weight: 176 g
Compatible with universal, Cheyenne-type cartridges
Made in the USA
View full details