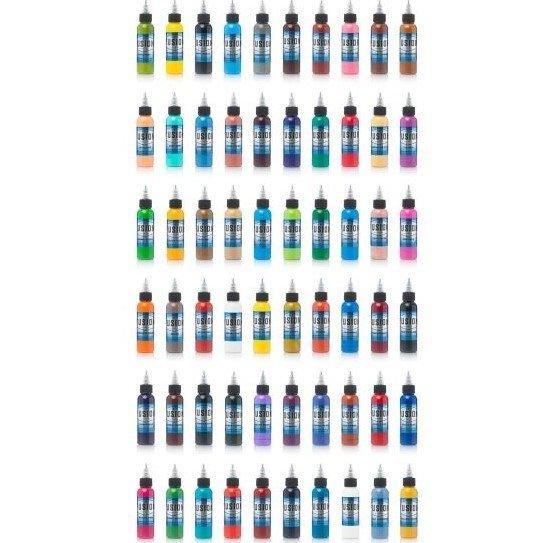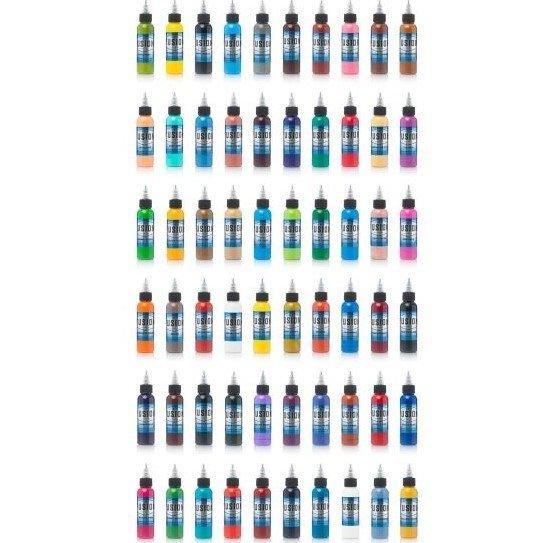 Regular price
Sale price
£599.99
Unit price
per
Sale
In Stock Soon
Thanks soon as its in you will be the first to know.
There was an error signing up for restock notifications. Please try again.
Want to know when its in stock?
Share
Fusion 60 Full Colour Set.
Adam Everett and Next Generation Tattoo Machines teamed up to bring you ever popular Fusion tattoo ink.
Adam Everett has produced pigments since 1995, over the past 15 years he has brought you some of the easiest applied pigments to date.
Fusion Ink has a very high pigment load and is also an organic pigment that is completely vegan safe.
Set Contains: Artichoke, Yellow Jacket, Basic Black, Blue Sky, Bomber Gray, Brick Red, Brown, Bubble Gum Pink, Terracotta, Butterscotch, Canteloupe, Cool Mint, Cornflower, Dark Flesh, Dark Magenta, Deep Purple, Emerald Green, Flaming Pink, Foundation Flesh, Fuschia, Gamma Green, Golden Yellow,Hazelnut, Hot Mustard, Icy Blue, Key Lime, Leafy Green, Light Blue, Light Flesh, Magenta, Mandarin Orange, Mauve, Melon Red, Mixing White,Mixing Yellow, Moss Green, Orange, Periwinkle, Pomegranate, Power Black, Power Blue, Power Brown, Power Green, Power Purple, Pretty Purple,Primrose, Purple Heart, Raw Senna, Tyrian Purple, Royal Blue, Saigon Pink , Spring Green, Tahitian Teal, Tangelo, True Blood Red, Turquoise,Turquoise Conc., White, Wild Lavender, Yellow Ochre
View full details